NLSA Announces Newest Hall of Fame Inductees; Additional Honor for Holy Cross Kirby Jubilee Trophy team
---
---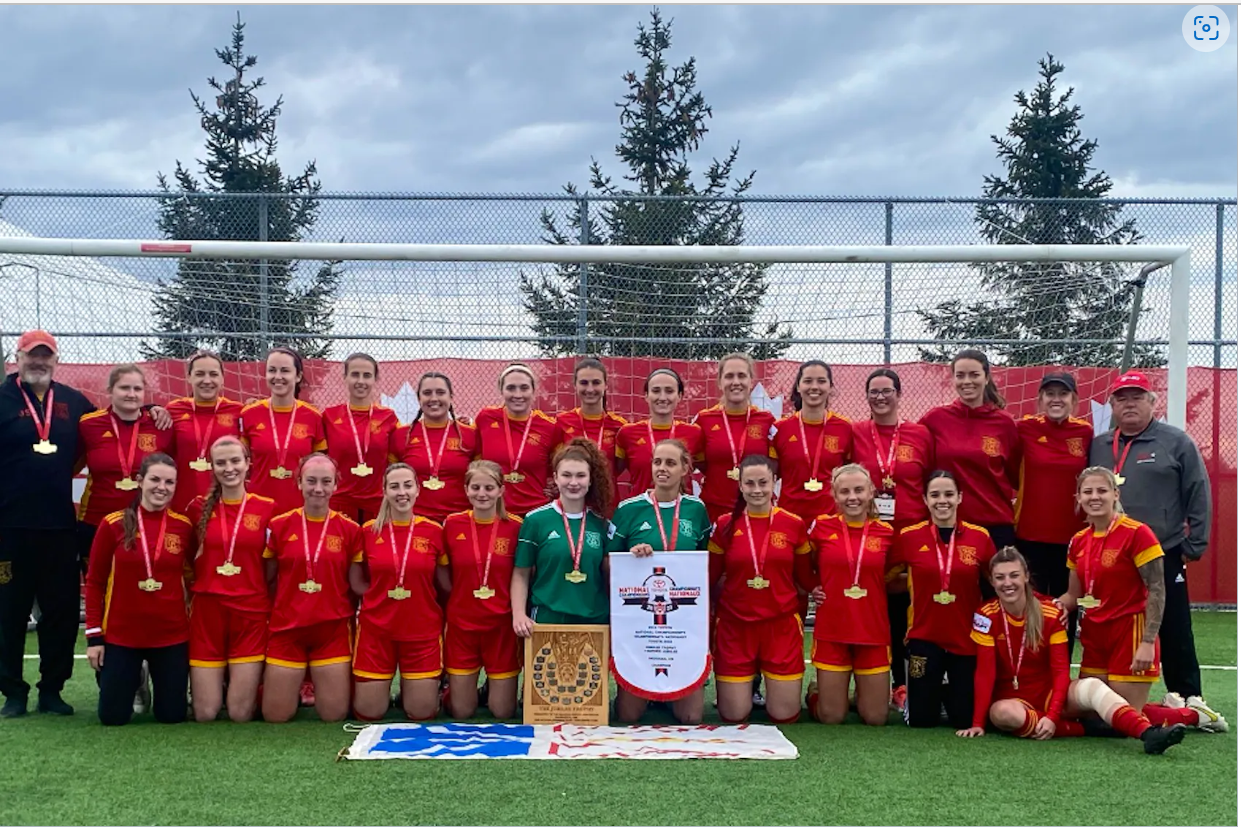 ---
The Newfoundland and Labrador Soccer Association has announced seven new members for its Hall of Fame - five athletes, and two builders. The Hall of Fame Class of 2022 includes Shane Antle, Stephanie (Rose) Dyer, Hannah Rivkin, Leslie (Pope) Hopkins and Jessica Wade in the Athlete's category and Martin Batterson and Derek Strang in the Builder's category.
Additionally, the Board has named the Holy Cross Kirby Group Jubilee Trophy team to the NLSA Honor Roll of Teams in recognition of their gold medal victory at the 2022 Toyota National Championships. The team is the fourth to receive this recognition. The win was the first ever Jubilee Trophy national women's title for Newfoundland and Labrador.
The Holy Cross Kirby Group Jubilee Trophy team and the Hall of Fame Class of 2022 will be inducted at the annual Hall of Fame Ceremony on [April 28, 2023] at the Holiday Inn Express in St. John's.
Biographies of the Class of 2022 are below.
For further information:
Damian Masterson, President, NLSA
damian.masterson@nlsa.ca
Shane Antle
After an impressive and successful youth career, Shane Antle established himself as a future impact player in the province's Challenge Cup league. His longevity as an elite player is certainly supported by his 18 years of Challenge Cup play.
During his time playing for Mt. Pearl and Holy Cross, he captured his lone Challenge Cup championship in 1994. Although other Challenge Cups were not to be, he did play for the championship as he reached the finals on five other occasions. Throughout his career, Shane was recognized as one of the premier midfield players of his era. This designation is supported by his six midfield and one central defender all-star selections and being chosen a finalist for the Player of the Decade for 2000-2009.
During his lengthy career playing at the elite level, he also represented Memorial University in Atlantic University competition where he again played a major role in their success. After his Challenge Cup days, Shane continued to find success winning three provincial Masters titles.
With his playing days coming to an end, Shane entered the realm of coaching, earning himself a National B certification along with a Challenge Cup Coach of the Year and a number of high school provincial championships.
Martin Batterson
Throughout his tenure within the soccer community, Martin Batterson has committed himself to advancing the game through his administrative and officiating endeavors. Having served various terms as an administrator, he settled in on advancing and improving the role of officials.
Having acquired the Provincial Class I Refereeing Classification and ten years of experience at all levels provincial competition, Martin turned to the education side of officiating. Recognizing the future of officiating was with our youth, he set himself to developing a Level 4 Youth Officials clinic. This program was accepted by NLSA and is still in use today.
Martin recognized that knowing the Laws of the Game was one thing, but getting feedback on your use of the Laws was just as important. With that in mind, Martin began assessing and giving feedback on game performances. This interest has led him to becoming a Canada Soccer National Assessor with over 300 assessments from youth nationals to the professional level.
Over the years, Martin has been recognized with NLSA's Ross Arlett Award, the Mt. Pearl Soccer Association Volunteer of the Year Award and induction into the Mt. Pearl Soccer Association's Hall of Fame. These recognitions have been for his committed efforts in developing and advancing the role of officials in our province.
Stephanie (Rose) Dyer
Stephanie (Rose) Dyer established herself as an impact player in two regions of our province where women's soccer was played.
During her youth years, she was skilled enough to play with both the girl's and boy's teams from Grand Bank. In the early eighties, Stephanie began her senior career playing with Fortune and Grand Bank, winning the Burin Peninsula Women's championship in 1984 with Grand Bank and was named MVP. In 1983 and 1985 she won the scoring title.
In 1985 Stephanie moved to St. John's and continued her senior career with Stanley Steamer and Celtics, winning the St. John's league twice. In 1986 she won the provincial women's championship along with the MVP award and represented the province at the national women's championships.
Stephanie's years at Memorial University were also rewarding as she twice finished second in AUS competition and was twice named a First Team all-star. For her efforts at Memorial, she was named to the Athletic Honor Society and the recipient of the Graham Snow award for her Outstanding performance in Sport and Academics. She was also inducted into the Burin Peninsula Soccer Hall of Fame.
Leslie (Pope) Hopkins
After an outstanding career at the youth level where she was a member of the National Training Centre and represented the province at the National All-star and National Club championships, Leslie went on to impress in the provincial Jubilee Trophy league and at the university level with Memorial University.
In the provincial Jubilee Trophy league, Leslie established herself as a premier attacking player from wide midfield positions. With the ability to take players on and go for goal and the ability to play dangerous crosses from near and far positions, she became the complete attacking player. Over the course of her Jubilee Trophy years, she was a member of five Jubilee Trophy championship teams. In addition to her five championships, she was named the league's MVP, earned Top Scorer recognition and was selected to the all-star team on eight occasions. Many soccer enthusiasts who follow the game often refer to her as the top midfielder of her era.
Leslie's five years at Memorial University saw her named team captain, Female Soccer Player of the Year, Academic All-Canadian and inducted into Memorial's Athletic Honor Society
Hannah Rivkin
Hannah Rivkin was a player who displayed all the characteristics necessary to play at the highest level. Using her incredible level of fitness and pace, she was able to outperform her opponents at every level in which she played. Going hand in hand with her fitness, she displayed a technical ability and a level of game intelligence and insight, that was well beyond her years.
Throughout her career, Hannah was a leader by example and committed to the task at hand. This was evident by her being named the recipient of the Michael "Beecher" Smith Award for a student athlete who demonstrates outstanding leadership, dedication and commitment while bringing a positive attitude to her team.
To give further insight into the accomplishments and accolades Hannah has received over the years, one has to go back to her years as a National Training Centre (NTC) player. In 2009, she was named NLSA and Sport NL Junior Player of the Year. Her impact at the Jubilee Trophy level was instant as she was named Rookie of the Year. During her years playing in the provincial Jubilee Trophy league, she earned regular season and play-off MVP honors, all-star selections, three Jubilee Trophy championships, and was named NLSA Senior Player of the Year.
At the university level Hannah once again excelled. In addition to winning the Atlantic University championship, she received AUS and RESQ First Team All-star selections while playing for Memorial and McGill universities along with CIS First and Second Team All-star selections.
To highlight Hannah's career was her two years with the National U-20 Women's team playing international friendlies for Canada.
Derek Strang
As a player, Derek Strang demonstrated intelligence, determination, and a passion to excel that suggested he would become a major impact player within the provincial Challenge Cup league. A career ending injury, however, shortened his Challenge Cup playing days. During his brief time as a Challenge Cup player, he did manage to capture three Challenge Cup provincial championships, a National Challenge Cup bronze medal in 1999 and an All-star selection.
Despite his career ending playing injury, Derek never called it quits. Instead, he directed his passion for the game towards coaching. In 2005 he took over the reins of coaching the St. Lawrence Laurentians. During his tenure coaching the Laurentians, he led his team to the Challenge Cup finals ten times while capturing the provincial Challenge Cup on six of those occasions. In 2007, he led his Laurentians to a national Challenge Cup bronze medal.
Over the course of his soccer involvement, Derek has been recognized for his playing years with Memorial University by being inducted into the Athletic Honor Society for his contribution to varsity athletics. His coaching success within the provincial Challenge Cup league had him twice named Challenge Cup Coach of the Year. In addition, he was also named NLSA Coach of the Year and a finalist for Sport NL Coach of the Year honors.
Jessica Wade
Throughout her playing career, Jessica Wade led by example. Her dominance in midfield and the defensive end of the field has been verified by her all-star selections in the provincial Jubilee Trophy league. The physical dominance, intelligence, technical ability and leadership which she portrayed further demonstrates the impact she had on the game at the senior women's level of play.
At the university level, Jessica was an AUS First and Second Team All-star, a five time Academic All-Canadian, and led her Memorial team to the semi-finals on two occasions. In addition, she was the recipient of the Graham Snow award for Athletics and Academics on two occasions. She capped off her university career by being inducted into Memorial University's Athletic Honor Society.
Jessica's years playing in the provincial Jubilee Trophy league saw her win five Jubilee Trophy championships, four all-star selections and earning Top Defender recognition. To further show her impact upon the game, she was named a finalist for NLSA's Female Player of the Decade (2000 - 2009).
Knowing what it takes to play at the top level, Jessica Wade was a role model for others to master the technical skills and fitness levels required to be successful and be considered an elite player.