NLSA Athlete of the Month July 2018
---
---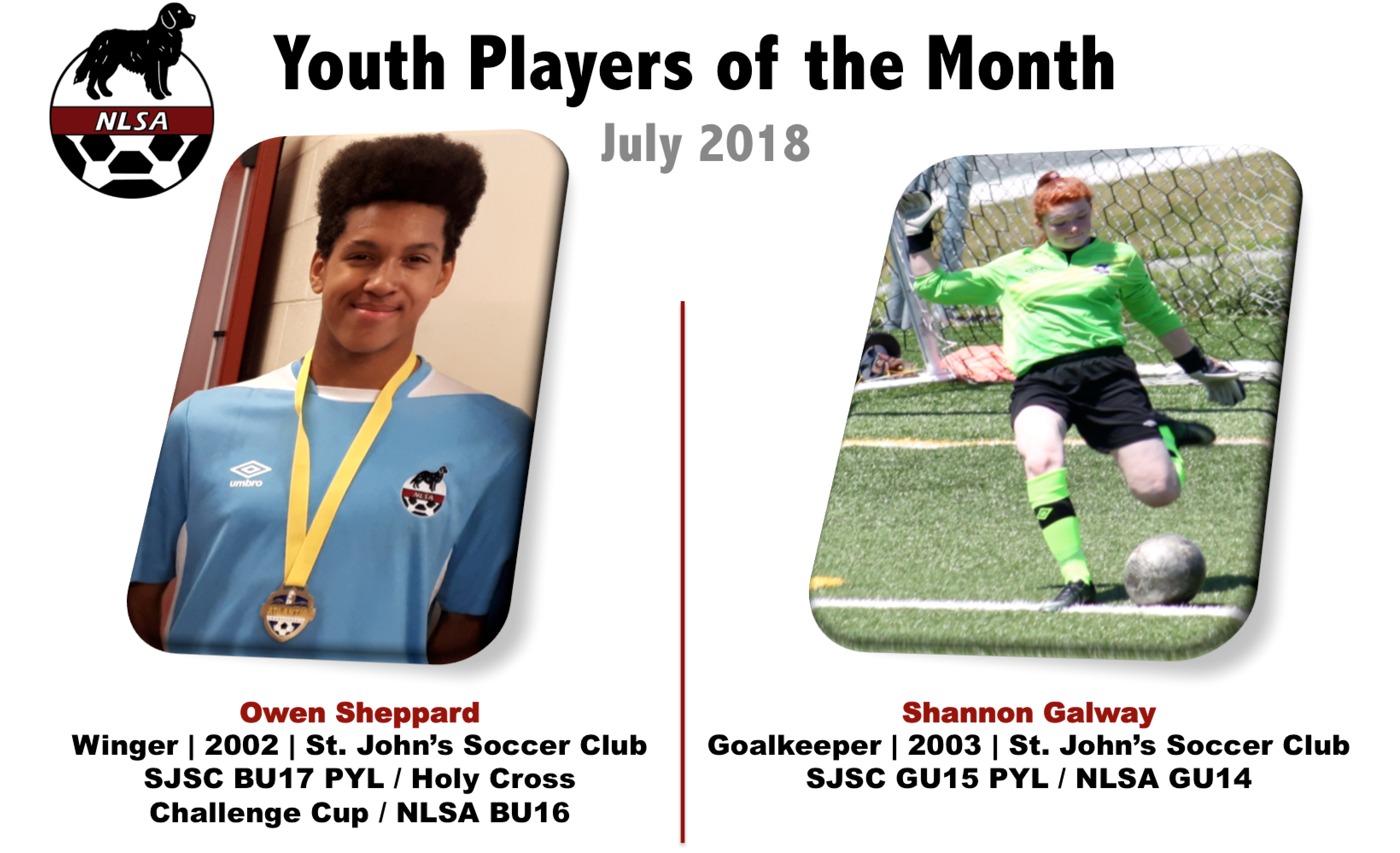 ---
NLSA Announces Male and Female Athletes of the Month for July
St. John's dominates the youth nominations, while Holy Cross and St. Lawrence share senior male and female honours. In addition, three of the four nominees lead scoring in their respective leagues, while the fourth is a goalkeeper with a perfect record through the month of July.
Senior Male: Tyler Forsey, St. Lawrence Laurentians
A prolific striker, Tyler Forsey rocketed to the top of the scoring heap in July with 12 goals, four of which were game winning goals. Forsey leads scoring in the Johnson Challenge Trophy league with 17 goals. His St. Lawrence Laurentians picked up 19 out of a possible 24 points during the month and sit in second place, just one point behind league-leading Feildians.
Senior Female: Jessie Noseworthy, Holy Cross Avalon Ford
Jessie Noseworthy's deft touch on the ball kept her atop the leaderboard in Breen's Jubilee Trophy scoring, adding six goals in four games during the month of July. She leads all scoring for the legue with 15 goals, followed closely by teammate Holly O'Neill with 11. Her Holy Cross Avalon Ford team won all seven games in July and sit in first place in the senior women's division.
Junior Male: Owen Sheppard, NLSA BU16, St. John's BU17
A lightning quick winger, Owen is taking his game to a new level in 2018. His attacking play was pivotal for the NLSA Boys Under 16 provincial team who captured the Atlantic Championship in Halifax. He is the current leading scorer in the BU17 Premier Youth League with 10 goals. Owen's talent and hard work have also been recognized by the Holy Cross Crusaders, as the 16-year old has earned regular minutes in the Johnson Challenge Cup league.
Junior Female: Shannon Galway, NLSA GU14, St.John's GU15
Shannon Galway's goalkeeping performances have earned her the distinction as NLSA youth female for July 2018. Her standout showing at the GU14 Atlantic Championship in Portugal Cove-St. Phillip's helped team NL to the silver medal. In GU15 Premier Youth League play, Shannon now has five clean sheets, and no attacker was able to breach her goal throughout July. Through hard work and determination, Shannon has been developing into an elite goalkeeper and is one to keep an eye out for in the future.